Gord Perks, and the Parkdale Residents Association have made known that,
As part of the City's Ten-Year Cycling Network Plan, there will be changes on Beaty Avenue and Dowling Avenue in mid-late September. One-way traffic directions will be reversed on both streets. Permit parking on Beaty Avenue between Queen Street West and King Street West will be permanently on the west side. Shared lane markings (sharrows) will be installed on both streets to clearly identify where cyclists should ride in regular traffic lanes and to remind drivers to share the road.
This new cycling router will provide a safe connection between Sorauren Avenue and the Waterfront Trail and create a gateway to green-space for the Parkdale neighbourhood.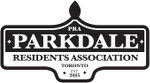 ______________________________________________
Parkdale Residents Association – Parkdale.TO